Welcome to Community Choices — your aging and disability information source.
Community Choices is a partnership between the Center for Disability Rights and the Agency on Aging of South Central Connecticut. It is a single point of entry for both folks with disabilities of all ages and older adults. It provides information to empower older adults and people with disabilities to advocate for themselves.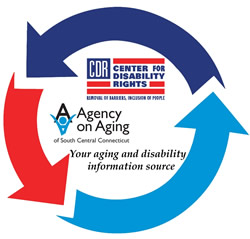 In Connecticut Call (800) 994-9422. When you call, please state that you are calling for the Aging & Disability Resource Center or ADRC. Our specially trained staff will be happy to assist you Monday through Friday 8:30 a.m. to 5 p.m.
Community Choices is made possible by an Administration on Aging grant through the State of Connecticut and is staffed by the Agency on Aging of South Central Connecticut and the Center for Disability Rights. Both organizations are at the forefront of promoting empowerment and self-reliance for older adults and persons with disabilities.
Community Choices is your "one-stop" information gateway for:
Community resources
Options counseling
Referrals for employment assistance
Referrals for care management
Planning for the future; and
Advocacy
Our Mission is to assist individuals 18 and older who are seeking services and support, regardless of age, disability or income, through a coordinated system of information and access.
What We Do
Community Choices is a resource hub of information – information that can range from a simple name and phone number to detailed help concerning community services, policies and procedures, and assistance with completing benefits applications.
Our goal is to empower individuals to advocate for themselves.
If you:
Don't know where to go for help
Have been denied benefits or services for which you feel you are eligible
Need assistance with communicating your needs
Have a complaint about service
WE CAN HELP!
Information About Community Resources:
Adult day care
Disability services
Elder abuse prevention
Employment, financial, housing, and equipment assistance
In-home services
Legal services
Mental health/substance abuse services
Transportation
Nutrition
Our Service Area
Community Choices serves the following towns and cities in Connecticut: Ansonia, Bethany, Branford, Derby, East Haven, Guilford, Hamden, Madison, Meriden, Milford, New Haven, North Haven, North Branford, Orange, Oxford, Seymour,
Shelton, Wallingford, West Haven and Woodbridge.
Download a printable PDF version of the Community Choices brochure here.
If you would like to learn more about our partner, Agency on Aging visit http://www.aoapartnerships.org/.