Welcome to the Center for Disability Rights
The 2015 Wheel-A-Thon to Benefit Youth with Disabilities took place Sunday, Sept. 20, 2015, at Savin Rock Conference Center. Visit our flickr page for photos of the event.
Connecticut Celebrates the ADA

July 26, 2015, marked the 25th anniversary of the signing of the Americans with Disabilities Act of 1990 by President George Herbert Walker Bush. The bill signing on the South Lawn of the White House remains the largest one in U.S. history with 20,000 guests on the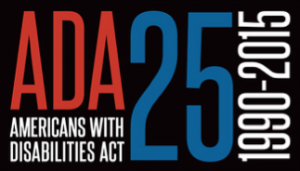 Lawn and another 24,000 in the back.
The national ADA Network is spear heading efforts to celebrate this milestone loudly and proudly all over the land. Events are taking place around the country and throughout the year and will be public and some will be fun and others will be more formal. At all, participants will be asked to "PLEDGE" again to the ADA! Connecticut's ADA affiliate, ADA Coalition of CT (ADACC), has several exciting events planned throughout the State with more coming.
CDR is a membership organization of persons with disabilities that operates a Center for Independent Living (CIL). Based in West Haven, Connecticut, the Center for Disability Rights advocates for people with disabilities and their issues on a local, state-wide, and national level. We also provide services to individuals and their families, as well as technical assistance and community education to businesses, government, and members of the community.
For individuals with disabilities, our service area extends from Milford and runs up the Connecticut Shoreline to Old Saybrook and Old Lyme; up to Middletown and Portland, and down through Meriden to the lower Naugatuck Valley. We also have four sister Centers for Independent Living in other parts of the state.
For more information about CDR and its mission, please click on "About" and "Programs and Resources" in the menu on the left.
If you have a question about accessibility, the ADA, disability discrimination, or a general inquiry; please use our "Ask The ADA Person" feature.
If you would like to become a member, please download this form, or contact Sandy at (203) 934-7077, Ext. 12 to have one mailed to you. Individual memberships cost $20. Family memberships costs $25.
---